Civil Aviation Minister Jyotiraditya Scindia on Wednesday acknowledged that the passenger on the December 10 Tiruchirappalli-bound IndiGo flight, who opened the emergency door, sparking panic among the co-passengers, was indeed BJP MP Tejasvi Surya. He, however, said that the incident was a 'mistake' on Surya's part and he had apologised for the same. 
"When the incident happened, Tejasvi Surya himself reported it to the pilot and the crew. Full protocol was followed as the Directorate General of Civil Aviation (DGCA) has investigated. Only after all checks, the aircraft took off. He (Surya) apologised for the delay caused due to the incident," Jyotiraditya Scindia said.
He further said: "It's important to look at the facts. The door was opened by him by mistake when the flight was on the ground and after all checks, the flight was allowed to take off."
"On December 10, a passenger opened the emergency door, creating a scare among passengers in IndiGo 6E flight 6E-7339 from Chennai to Trivandrum. The flight took off after pressure checks soon after," the DGCA had said earlier, while ordering a probe.

The airline was, however, mostly tight-lipped on the incident, saying only that the "passenger had accidentally opened the emergency door and had apologised". Although, the airline refused to divulge Surya's identity, social media was abuzz with the "sources who revealed Surya's identity" and sought action.
The Opposition slammed Surya for the incident, calling him a "BJP VIP brat". Congress leader Randeep Singh Surjewala tweeted that people can' complain about "entitled BJP VIPs".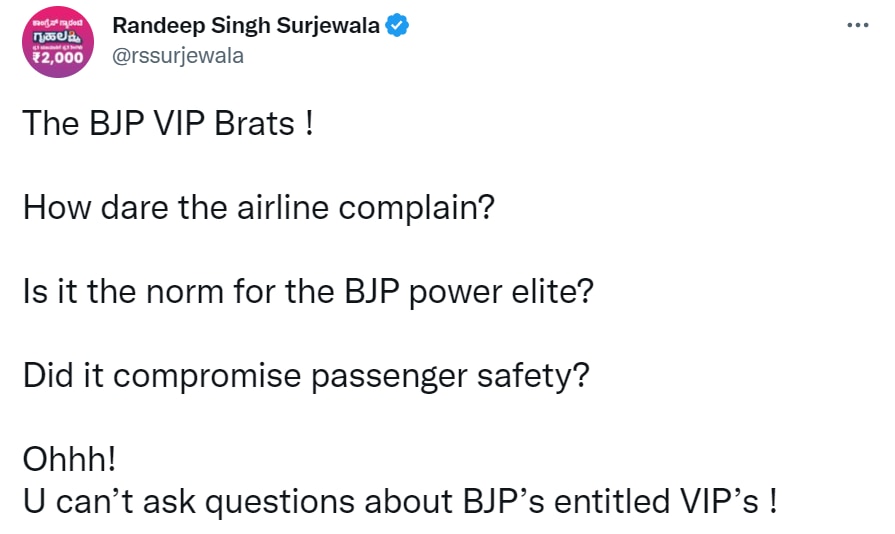 Taking a dig at Tejasvi Surya, Congress leader Sri Vatsa shared a video of the procedure of how an emergency door is opened. "This is how Tejasvi Surya might have "accidentally" opened the emergency exit by "lightly resting his hand on the door". Passengers & Indigo must thank Surya for not doing this midair," he tweeted.
Tejasvi Surya also faced flak from netizens for allegedly delaying the flight and causing inconvenience to passengers.