New Delhi: Television actor Uorfi Javed criticised spiritual leader Sadhguru Jaggi Vasudev for his remarks against the LGBTQ community. Recently, Uorfi released a video of Sadhguru making a remark on the LGBTQ community on social media, expressing her disgust.
While condemning Sadhguru's statement on Instagram Stories as "propaganda," the social media influencer spoke out in support of the LGBTQ community. She shared a little excerpt of Sadhguru's speech in her first Instagram Story, in which he speaks out about the LGBTQ community and demands that the "campaign" end.
"Anyone who follows this cult leader, please unfollow me. So, LGBTQ is actually a campaign, according to him. It is rightly so, as the said people involved in the campaign are able to talk about their sexuality freely and loudly. The percentage of the LGBTQ community is not small, but guess what. Your brain is," Uorfi wrote in the caption.
Javed continued talking about the issue in her following Instagram Story, expressing her stance on the LGBTQ community.

"Such type of propaganda should not be encouraged. The LGBTQ community needs our support. For centuries, people were forced to hide their sexuality. Pretend to be someone else. We need to have campaigns. Parades to tell everyone that it is okay to be yourself. No matter who you choose to love. You are accepted," she wrote.
Have a look at her Instagram stories here: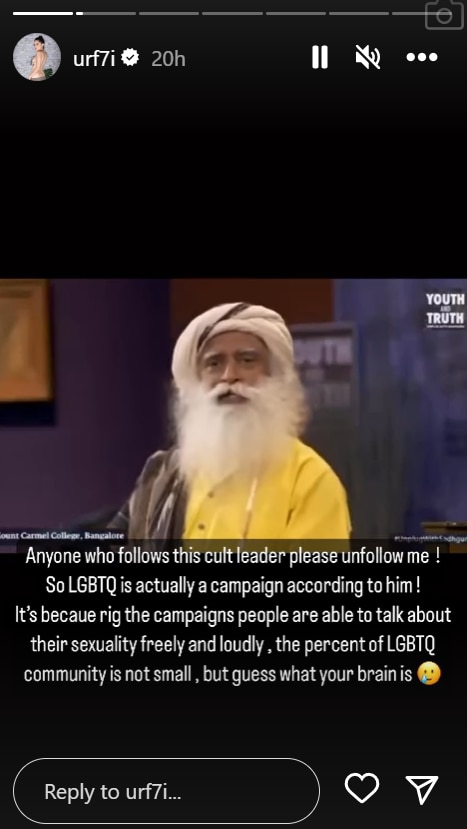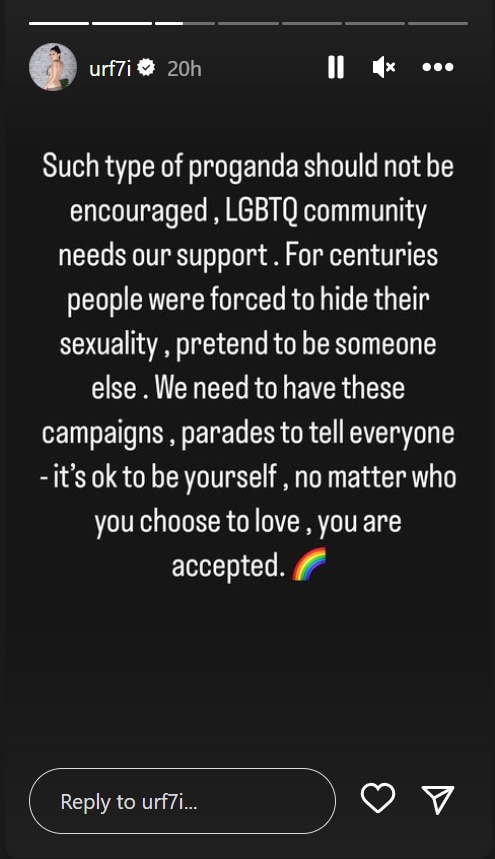 Meanwhile, the reality television star Uorfi Javed has also reported Chitra Wagh of the BJP to the police. Since a few days ago, they had been exchanging insults back and forth.
Lekin abhi bhi bahot Sudhar baaki hai ! Sorry @ChitraKWagh ji ! I love you ❤️ pic.twitter.com/aq4i0vfuxF


— Uorfi (@uorfi_) January 9, 2023
On the other hand, rapper Honey Singh stated in an interview from a week ago that all young women in the nation should follow Uorfi's bravery and fearlessness.
Uorfi most recently appeared on Splitsvilla X4, a dating reality series hosted by Sunny Leone and Arjun Bijlani.