Jammu and Kashmir Lieutenant Governor Manoj Sinha met the protestors staging an agitation against two terrorist attacks in Dangri village in Rajouri that resulted in the deaths of six people. The attacks occurred within hours of each other, with four persons being killed on Sunday evening when terrorists opened fire on houses. Two persons were killed in an Improvised Explosive Device (IED) blast on Monday morning.
The protests were led by members of the minority community. Sinha assured them that the government is committed to eliminating terrorism from the Union Territory and assisting the affected families. Sinha was accompanied by Director General of Police Dilbagh Singh and J&K BJP Chief Ravinder Raina during the meeting with the protestors.
The participants in the protest raised concerns about the security situation in Rajouri and the withdrawal of weapons from the Village Defence Committees, making them vulnerable to terrorist attacks. Sinha also met locals, leaders, and the grieving families of the victims to express his condolences and promised to take necessary action to address the issue.
Earlier in the day, Sinha announced ex gratia payments of Rs 10 lakh and a government job for the next of kin of the civilians killed in the attacks and promised that those responsible would not go unpunished. He also stated that those seriously injured would receive Rs 1 lakh in aid.
A National Investigation Agency (NIA) is expected to visit Upper Dangri village in Jammu & Kashmir where the six people, including a minor, were killed in the two separate terrorist attacks. The team that will be sent will be from NIA's Jammu branch. This team will gather the details of the incidents along with the sleuths of J&K police. The sleuths will be keeping a tab on the methods that terrorists have used to slay civilians in the last two attacks in Dangri village of Rajouri district.
OPPOSITION REACTS TO ATTACKS
Former Chief Minister and vice-president of Jammu & Kashmir National Conference Omar Abdullah slammed the attack, calling it "targetted". "Deeply shocked as more details emerge of this targeted attack in Rajouri district of Jammu. I unequivocally condemn this heinous attack & send my condolences to the families of the deceased. I hope those injured in this attack will make a swift & complete recovery," he tweeted.
Omar Abdullah blamed the security forces in the area and demanded accountability. He alleged lapses in procedures. "This apparent carelessness on the part of the security forces needs to be probed & accountability fixed. Costly lessons learnt in the past taught us not to hand over the sites of encounters/attacks without throughly sanitising them. Why wasn't this SOP followed in Rajouri," he tweeted.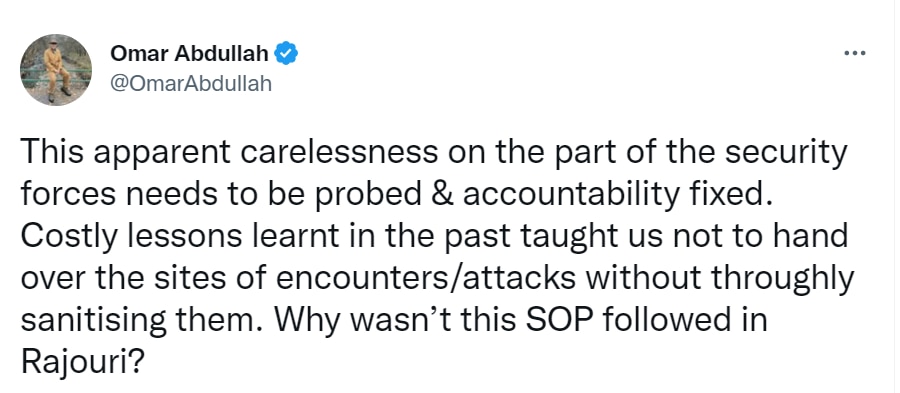 Another former CM and Jammu and Kashmir People's Democratic Party chief Mehbooba Mufti said the BJP's claims of having ended militancy were "bogus". "Condemn this cowardly act & condolences to their families. Despite being under BJP rule & its bogus claims of ending militancy, violence continues unabated," she tweeted.